​
MUST TRY
TO SHARE
​
MINI FALAFEL WITH TAHINE SAUCE
with almond milk sauce VE LF
55
​
BUFFALO MOZZARELLA
Served with rustic Brazilian nut pesto,
grilled cherry tomatoes and croutons
72
​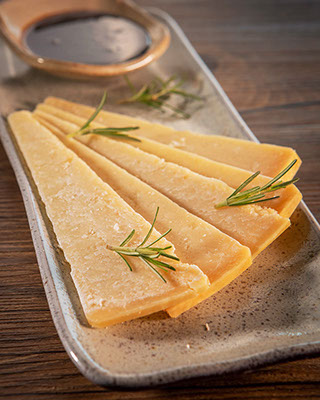 BRAZILIAN CHEESE, PARMESAN STYLE
12 month matured cheese served
with a reduction of balsamic vinegar
and honey GF
49
​
GRILLED BRIE CHEESE
Served with orange blossom honey
and toasted macadamia nuts
72
​
BLACKS & GREENS
Marinated black and green olives
in extra virgin olive oil
with house dressing VE GF LF
42
​
PIZZA MARGHERITA
Tomato sauce, mozzarella,
parmesan cheese, and basil VG
78
​
PIZZA BRAZUCA
Tomato sauce, mozzarella,
jerked beef with onions,
catupiry cheese, Brazilian cheese curd
and manioc flour
82
​
URAMAKI CRUNCHY
Rice roll with salmon,
algae and mujol roe LF
57
​
SHIMEJI WITH PINEAPPLE
Sautéed on butter,
seasoned with sake, soy sauce
and ginger VG GF
62
​
CAJU HOT ROLL
Breaded hot roll with salmon, rice,
algae served with cashew tare sauce
66
​
TUNA TARTAR
served on potato chips with missô sauce GF LF
69
​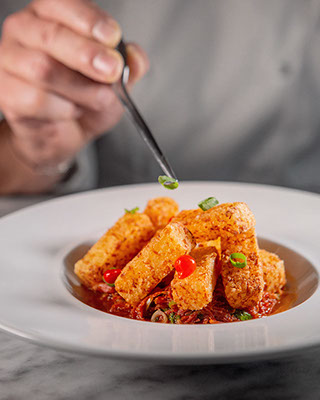 FROM RODRIGO
Jerked beef sautéed with 'manteiga de garrafa'
(liquid Brazilian butter) with tapioca dices GF
82
COUVERT
Wholemeal bread with nuts
Butter with fleur de sel
18
​
ESSENTIALS
STARTERS
​
WALDORF SALAD
Mixed leaves with green apple,
celery, cucumber, raisins, spicy crunchy
walnuts and yogurt dressing.
61
​
LIGHTLY TORCHED TUNA
Six slices of blow torched tuna served
with sweet and sour cucumber salad GF LF
63
​
AVOCADO TOAST
On whole wheat bread with tomato,
poached egg, sicilian lemon zest
and Hollandaise sauce
65
​
JONAS SAN
Salmon tataki with Asian pear,
Ponzu sauce and sushiman flour
69
​
OUR ICON
Prawns and crab meat served
on a shell Bahia style
72
​
CEVICHE - CAJÁ - CAJU - CARÁ
White fish with cajá and cashew nuts
seasoned with cashew and cajá sphere GF
73
​
CARPACCIO
Filet mignon, pesto sauce, mini arugula
and shoestring yam fries GF
90
​
THE RESPECTABLES
JAPANESE DISHES
​
SUSHI
Sushiman selection of eight pieces,
four rolls and one shrimp sushi GF LF
107
​
CLASSIC
Sushi and sashimi combo;
seven pieces of sushi
and 12 assorted slices of fish GF LF
130
​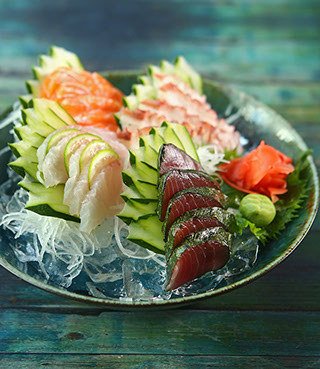 SASHIMI ON ICE
20 assorted slices of fish served on ice GF LF
138
​
BIG SEA CARPACCIO
Thin slices of salmon, tuna, white fish,
with a citrus vinaigrette GF LF
145
​
SPECIAL
Special sushi and sashimi combo:
sushiman selection of nine pieces
and fifteen slices of three
different types of fish GF LF
175
​
THE UNMISSABLES
CONTEMPORARY DISHES
​
FAKE MEATBALLS
Made by plants and herbs
with lovely tasted of curry and served
with mix of brazilian beans VE LF
95
​
ESCALOPE OF SALMON
With wild rice, tomato concassée,
honey, raspberry vinegar, frisée
and homemade mascarpone
112
​
SEA AND FOREST RISOTTO
Nero risotto with squid ink, fish,
seafood, mushrooms and aioli sauce
125
​
HAWAIIAN POKE UNIQUE STYLE
Marinated salmon cubes in ginger oil,
avocado with wasabi, mango,
gohan rice, edamame, purple cabbage,
cucumber pickles and seaweed LF
92
​
VEGAN POKE
Avocado with wasabi, mango,
gohan rice, edamame, purple cabbage,
cucumber pickles, tofu cheese and seaweed
88
​
ANGUS STEAK TARTARE
served with organic mixed leaves,
bacon mayonnaise, vegetable pickles
and potato chips LF
117
​
"HORSE RIDING" CHICKEN
and corn couscous in bottle butter
with cashew nuts, rennet cheese, fried egg,
toasted corn, accompanied by homemade
yogurt with parsley
91
​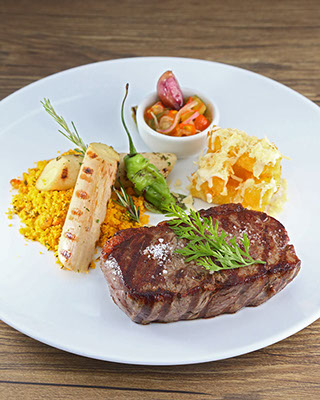 B.B.Q. BRAZIL
Chorizo steak (280g or 300g),
baked palm of heart, yam
with cured cheese cream, vinaigrette
and homemade toasted manioc flour
135
​
FILE MIGNON CAPRESE
served with creamy polenta with arugula
and saffron, rustic pesto, buffalo mozzarella
and roasted tomato
144
​
THE NOSTALGICS
OUR CLASSICS
​
RISOTTO PF STYLE
Arboreo rice, beans, jerky beef,
Brazilian cheese curd,
toasted manioc flour, banana
with cashew nuts and fried quail egg
110
​
COVEN ROASTED PUMPKIM WITH PRAWNS
Served with Iemanjá sauce,
toasted manioc flour from Bragança
in butter, coconut rice and chilli
159
​
STEAMED SEA BASS (SINCE 1992)
Champagne cream,
yam puree and mujol caviar
148
​
CUPIM ROSSINI
Slow roasted cupim (Brazilian cut, very soft
and marbled), creamy potato puree,
red wine sauce with black truffle
130
​
THE DEAREST
SANDWICH
​
CROQUE MONSIEUR FAÇON SKYE
Sliced brioche bread, emmental cheese,
ham and bechamel sauce. Served with potato
chips with rosemary
66
​
THE ATTRACTIVE
DESSERTS
​
BURGUNDY VACHERIN
The new classic vegan style
Raspberry sorbet with meringue,
blackberry sauce drizzled
with cassis liqueur VE GF
34
​
TIRAMISU IN ANOTHER VERSION
With red fruits flavored with hibiscus tea
35
​
3x CHOCOLATE
Cocoa bomb filled with white chocolate
and Sicilian lemon zest, Belgian chocolate
ice cream and warm Nutella syrup
36
​
PUDDING IN A GLASS
of Matcha tea with its crumble and
black and white sesame tile
30
​
CRÈME BRÛLÉE
of pear and saffron and a cashew
'financier' flavored with turmeric
33
​
CHOCO-COCONUT PASSION
Zero sugar 100% vegan
Chocolate mousse flavored with coconut,
fleur de sel, walnut flour with coconut
and passion fruit syrup
37
​
PINEAPPLE CARPACCIO
with ginger and orange syrup with
spices, homemade mascarpone
cheese and cilantro sprouts
35
​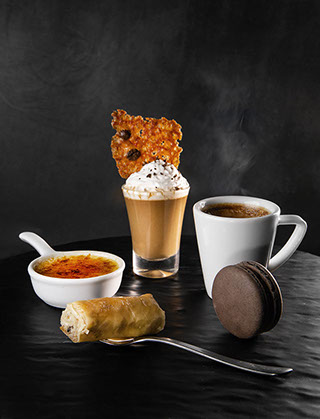 GOURMAND COFFEE
Nespresso coffee with four sweet treats
to go with it: pear and saffron crème brûlée, matcha tea pudding, macaron of the day
and chocolate brownie with chestnuts
47
VE vegan
VG vegetarian
GF gluten free
LF lactose free
PICTURES FOR ILLUSTRATIVE PURPOSES ONLY
Although all due care is taken, dishes may still contain ingredients that are not set out on the menu and these ingredients may cause an allergic reaction. Guests with allergies need to be aware of this risk and should ask a member of the team for information on the allergen content of our food. We offer free filtered water to our customers upon request.