​
TO SHARE
​
MINI FALAFEL WITH TAHINE SAUCE
with almond milk sauce VE LF
62
​
CHIPS
potato chips with tuna tartar
and miso sauce GF LF
69
​
BUFFALO MOZZARELLA
Served with rustic Brazilian nut pesto,
grilled cherry tomatoes and croutons
77
​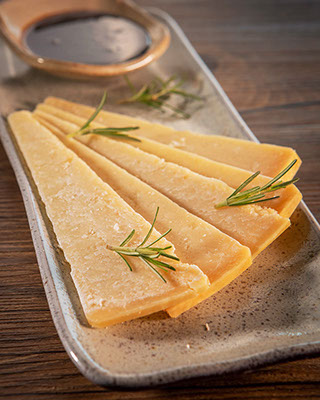 BRAZILIAN CHEESE, PARMESAN STYLE
12 month matured cheese served
with a reduction of balsamic vinegar
and honey GF
53
​
GRILLED BRIE CHEESE
Served with orange blossom honey
and mix of nuts
79
​
PIZZA MARGHERITA
Tomato sauce, mozzarella,
parmesan cheese, and basil VG
85
​
PIZZA BRAZUCA
Tomato sauce, mozzarella, jerked beef
with onions, catupiry cheese, Brazilian
cheese, manioc flour with bacon and kale
85
​
URAMAKI CRUNCH
Rice roll with grilled salmon,
roasted seaweed and mujol roe LF
62
​
CAJU HOT ROLL
Breaded hot roll with salmon,
rice, roasted seaweed served
with cashew tare sauce
71
​
FROM RODRIGO
Jerked beef sautéed with 'manteiga de garrafa' (liquid Brazilian butter) with
tapioca dices GF
92
COUVERT
Wholemeal bread with nuts
and butter with fleur de sel
21
​
THE JAPANESE FLAVORS
Available from 12am to 3:30pm and 6pm to 1am
​
LIGHTLY TORCHED TUNA
Six slices of blow torched tuna served
with sweet and sour cucumber salad GF LF
69
​
HAWAIIAN POKE UNIQUE STYLE
Shari rice, salmão cubes, mango,
avocado with wasabi, cucumber pickles,
roasted seaweed, murshrroms, edamame,
purple cabbage, kimchi (spicy chard)
and lotus root LF
98
​
VEGAN POKE
Shari rice, tofu cheese, mango,
avocado with wasabi, cucumber pickles,
roasted seaweed, murshrroms, edamame,
purple cabbage, kimchi (spicy chard)
and lotus root VE GF
96
​
SUSHI
Sushiman selection of eight pieces,
four rolls and one shrimp sushi GF LF
110
​
VEGAN SUSHI
Cold tofu with scallion and ginger, kappamaki
(rice and cucumber roll) accompanied by pairs
of mini carrot, roasted seaweed wakame salad,
kimchi (spicy chard) and lotus root VE LF GF
120
​
CLASSIC
Sushi and sashimi combo: seven pieces of
sushi and 12 assorted slices of fish GF LF
136
​
SPECIAL
Special sushi and sashimi combo:
sushiman selection of nine pieces
and fifteen slices of three different
types of fish GF LF
180
​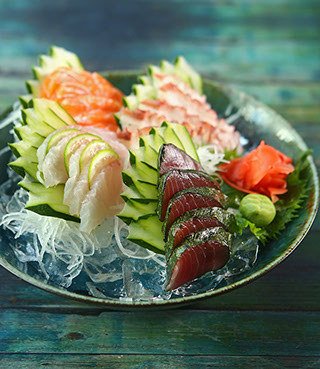 SASHIMI ON ICE
20 assorted slices of fish served on ice GF LF
145
​
BIG SEA CARPACCIO
Thin slices of salmon, tuna, white fish,
with a citrus vinaigrette GF LF
155
​
THE STARTERS
​
FAKE TARTAR
smoked carrot with pickles and
almond milk emulsion VE LF
65
​
LEAVES - PEAR - GORGONZOLA
Mix of leaves with grilled pear,
gorgonzola cheese, spicy walnuts
and balsamic reduction VG
72
​
BURGUNDY EGG
The classic poached egg 'meurette' with
red wine sauce, bacon and champignon
of Paris on slice of grilled bread
66
​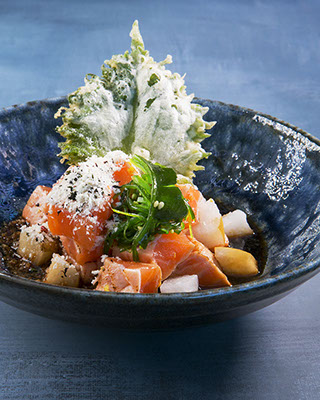 SALMON CUBES
lightly torched with Asian pear, ponzu sauce
and sushiman 'farofinha' LF
73
​
FILET TONNATO
Filet carpaccio with tuna sauce,
paprika, arugula and croutons
75
​
CEVICHE PASSION
white fish with gourd and toasted gourd
seeds in a spicy passion fruit broth LF GF
78
​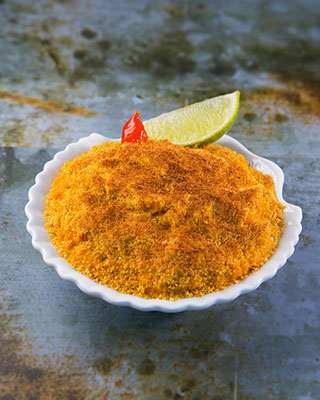 OUR ICON
Prawns and crab meat served
on a shell Bahia style
79
​
GRILLED OCTOPUS
and carrot puree with ginger
in a 'caliente' vinaigrette
85
​
THE CONTEMPORARIES
​
FAKE MEATBALLS
Made by plants and herbs with lovely
tasted of curry and served with mix
of brazilian beans VE LF
95
​
BEET GNOCCHI
with beets in different textures drizzled
with beet juice with ginger VE GF LF
99
​
ESCALOPE OF SALMON
With wild rice, tomato concassé,
honey, raspberry vinegar, frisée and
homemade mascarpone GF
112
​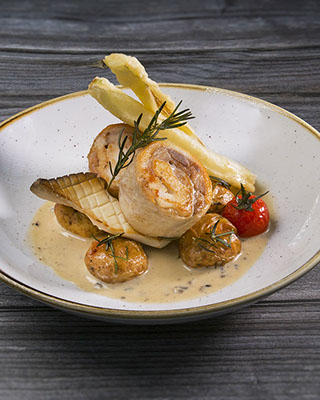 CHICKEN MEDALLION
with truffled velouté, baked
potatoes and leek tempura
105
​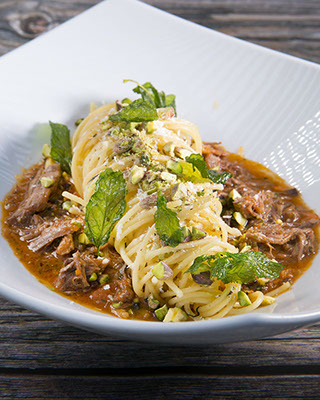 SPAGHETTI
with delicate ragout of lamb with pistachio
110
​
CURRY VEAL
slow cooked, served with green apple
and coconut rice with chili pepper
120
​
DUCK WITH RICE BROTHY
chickpeas and broad beans in Arabic
spice with a touch of dry curd
125
​
SKYE'S CLASSICS
​
CUPIM ROSSINI
Slow roasted cupim (Brazilian cut, very soft
and marbled), creamy potato puree,
red wine sauce with black truffle
135
​
ANGUS STEAK TARTARE
served with organic mixed leaves,
bacon mayonnaise, vegetable pickles
and potato chips
125
​
RISOTTO PF STYLE
Arboreo rice, beans, jerky beef,
Brazilian cheese, toasted manioc flour,
banana with cashew nuts and fried quail egg
115
​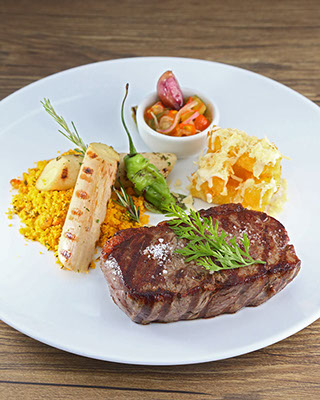 B.B.Q. BRAZIL
Chorizo steak (280g or 300g), baked
palm of heart, manioc with cured cheese
cream, vinaigrette and homemade
toasted manioc flour
140
​
COVEN ROASTED PUMPKIM
WITH PRAWNS
Served with Iemanjá sauce, toasted
manioc flour from Bragança in butter,
coconut rice and chilli
165
​
STEAMED SEA BASS (SINCE 1992)
Champagne cream,
yam puree and mujol caviar
155
​
CROQUE MONSIEUR
Slice of brioche, emmental cheese,
ham and béchamel sauce served with
potato chips and leaves
90
​
THE DESSERTS
​
I

CAJU
Cashew confit, cashew sorbet,
cashew nut farofa and juice of the
famous cashew friend with vodka LF
37
​
PUDDING IN A GLASS
bourbon vanilla with
salted butter toffee
35
​
BABÁ CACHAÇA
Traditional babá, replacing
the rum with aged cachaça,
served with chantilly cream
35
​
PINEAPPLE CARPACCIO
with ginger and orange syrup with
spices, homemade mascarpone
cheese and cilantro sprouts GF VG
35
​
CRÈME BRÛLÉE
of pear and saffron and a cashew
'financier' flavored with turmeric
37
​
BURGUNDY VACHERIN
The new classic vegan style.
Raspberry sorbet with meringue,
blackberry sauce drizzled
with cassis liqueur VE GF LF
37
​
CHOCO-PASSION
In the look of its first presentation 31 years ago.
Dark chocolate mousse and passion fruit ice cream intercalated with chocolate tuiles and served with passion fruit syrup.
37
​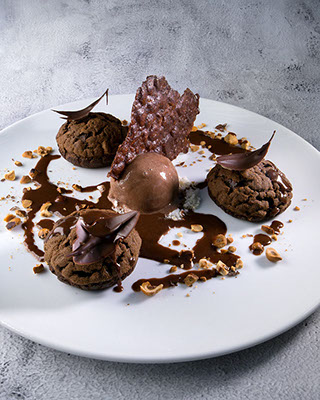 PROFITEROLES NUTELLA
Cocoa profiteroles filled with white chocolate cream with Sicilian lemon zest, Belgian chocolate ice cream and warm Nutella syrup
45
​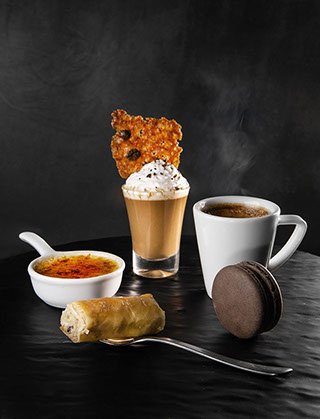 GOURMAND COFFEE
Nespresso coffee with four sweet treats
to go with it: pear and saffron crème brûlée, Bourbon vanilla pudding with salted butter
toffee, macaron of the day and chocolate
chip brownie with nuts and pistachio
55
VE vegan
VG vegetarian
GF gluten free
LF lactose free
PICTURES FOR ILLUSTRATIVE PURPOSES ONLY
Although all due care is taken, dishes may still contain ingredients
that are not set out on the menu and these ingredients may cause an
allergic reaction. Guests with allergies need to be aware of this risk and
should ask a member of the team for information on the allergen content of our food. We offer free filtered water to our customers upon request.